Our Eco-Friendly Mission
People come to Maui for the pristine natural beauty of the island, but unfortunately with every new visitor, more pressure is put on the health and ecosystem of the island. Although Maui has made great progress at dealing with environmental problems like banning plastic bags (a hazard for sea turtles) and pushing hard for electric charging stations and more renewable energy, there is still plenty of work to be done. We thought long and hard about what we could do to reduce the environmental impact of our vacation rental so our guests could feel good about their trip to Maui. Below is a list of the eco-friendly and health conscious features of our condo.
Our eco-friendly mission is to offer an eco-friendly and health conscious condo so our guests feel good that their Hawaii vacation is the greenest possible and doesn't compromise their eco-friendly values and beliefs.
Eco-friendly and Health conscious features of our condo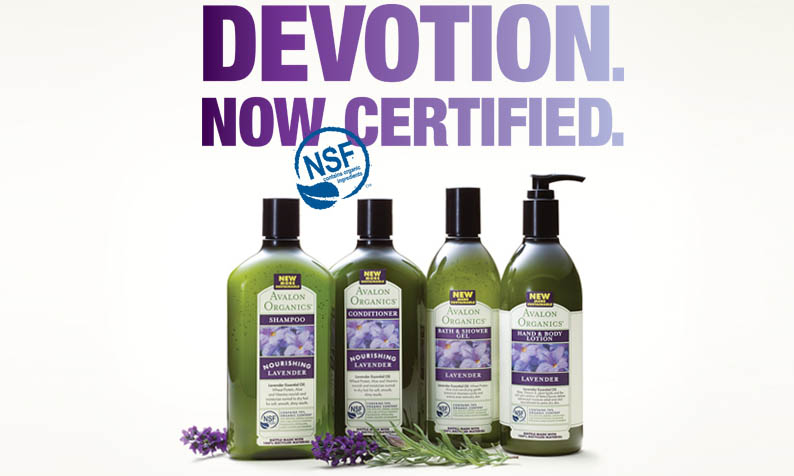 Avalon Organics personal care products & eco-friendly dish soap
The skin is the largest organ of the body -- a delicate shield of protection covering us from head to toe. Much of what we put on our body is absorbed directly into our skin. That is why we stock the condo with the most natural products available, Avalon Organics for shampoo, conditioner, body wash and hand soap. All of Avalon Organics products are made from at least 70% certified organic ingredients and is free of synthetic fragrances, phthalates and harsh sulfates or parabens. So now you have one less thing to worry to pack for your trip!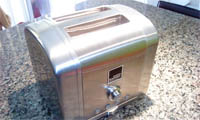 Energy efficient Gordon Ramsey toaster
This Gordon Ramsey toaster has a seemingly rare but simple energy saving concept: it has a single-slot toasting function that saves energy by getting rid of the need to heat two slots when you only want a single slice of toast! Pressing the "one slot" button will activate only the front slot of the toaster, saving 50% energy.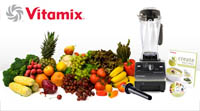 Commercial grade Vitamix blender
Many people may not be aware of this, but high powered blenders like the Vitamix have the ability to spin so fast (240mph) that they are able to break down plant cell walls which then allow the body to absorb a higher percentage of phytonutrients. The Vitamix offers the benefits of a juicer without producing any of the waste.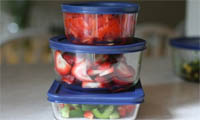 Glass tuperware to reduce exposure to BPAs and plastic leaching
Exposure to certain chemicals like BPA (Bisphenol A) found in some plastics have been linked to various human health problems including certain types of cancer and reproductive disorders. At the time of writing this, 10 states in the United States, Canada and the European Union has banned plastics containing BPA from infant feeding containers. BPA is still allowed to be in standard food containers like tupperware and that is why we have supplied only glass tupperware in the condo for our guests.
Carbon Neutral Certification
Energy we couldn't reduce through improving energy efficiency, we offset by purchasing
carbon credits
that goes towards the construction of a 45-turbine wind farm project in Tamil Nadu, India.
The wind farm is connected to India's largely fossil-fuel powered electricity grid and replaces non-renewable energy sources such as coal with clean, wind-generated energy. The project contributes to the sustainable development of the region – socially, environmentally and economically.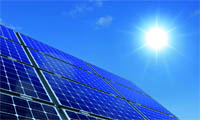 147kw Solar PV system
Kalama Terrace has a 147kw solar array on the roof that will produce enough energy to offset 99% of the electricity we consume. This is a good thing because over 80% of the electricity produced on Maui comes from imported diesel.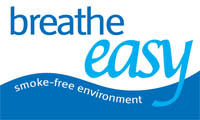 100% smoke-free complex
While I was on the board of Kalama Terrace, I helped get a majority vote to ban smoking anywhere on the complex so that everyone could enjoy the freedom of leaving their windows open and breathing clean air.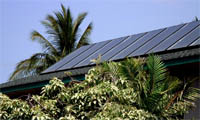 Solar hot water system
Hot water comes from solar hot-water heaters on the roof - taking advantage of the constant sunshine in Kihei.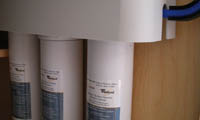 Reverse osmosis drinking water system
Because of added chemicals like chlorine, Maui's tap water isn't the greatest so to avoid guests having to go out and buy imported bottled water, we have installed a 3 stage reverse osmosis system to give guests the best crystal clear drinking water possible. The filtration system filters contaminants such as arsenic, lead, asbestos, copper, cysts, lead, radium and turbidity resulting from industrial discharge, pesticide runoff and gasoline additive leakage into ground water.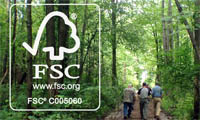 FSC certified wood doors
We have purchased only Forest Stewardship council certified products for all the interior doors. FSC is an independent, non-governmental, not-for-profit certification organization established to promote the responsible management of the world's forests.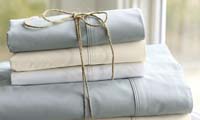 100% organic cotton linens, towels and bed spreads -
Did you know that conventionally grown cotton consumes approximately 25% of the insecticides and more than 10% of all the pesticides used in the world? Conventional farming devours roughly a third of a pound of pesticides and fertilizers to produce enough cotton for a single T-shirt. The production of cotton has a huge impact on the world we live in. Organic cotton products reap all the benefits of cotton's beauty, comfort and strength while minimizing harm to people and the planet.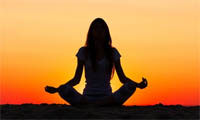 Yoga mats that are free of latex and the top six most harmful phthalates
Manufactured free of the top six most harmful phthalates, these mats are a healthier choice for both guests and the planet. The condo is equipped with two yoga mats and 2 cork yoga blocks so that guests can leave their personal yoga mat at home.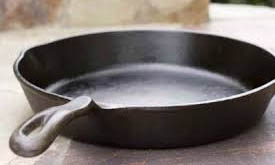 Cast iron fry pans
Almost all the Non-stick pots and pans on the market today use a teflon or Polytetrafluoroethylene (PTFE) coating to achieve its non-stick properties. While PTFE is stable and nontoxic, it begins to deteriorate after the temperature of cookware reaches about 260 °C (500 °F), and decomposes above 350 °C (662 °F). These degradation by-products can be lethal to birds, and can cause flu-like symptoms in humans. Although we do offer a teflon coated fry pan, we also offer a cast iron fry pan for those who prefer not to take any chances with PTFE.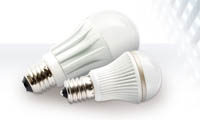 High efficiency LED, CFL and dimmable lighting
The bedroom and main living areas utilize a combination of high-efficiency LED and CFL lights and dimmable lighting to maximize energy conservation without compromising mood lighting options.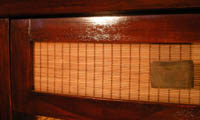 Sustainably harvested teak furniture
Aside from the bamboo furniture in our condo, the teak furniture we have was harvested from sustainable plantations or reclaimed from other uses.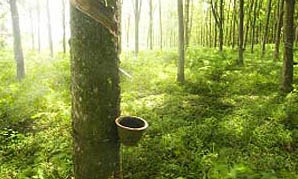 100% natural rubber mattress and pillows
100%-Natural rubber latex mattress wrapped in certified organic cotton is made from eco-friendly botanical all natural components with no toxic chemicals or synthetic or petroleum based fillers. It is free from chemical additives which are sometimes added as fresheners, odor camouflage, softeners, stain guards etc. By eliminating these additives, you truly have natural environment with long term health benefits.